Where There Is a Will, There Is a Way —— A Review of How Beijing Energy International Expanded Its Market in 2021
A great era is ushered in as China's strategic dual carbon goal is implemented and the construction of a new power system based on new energy unfolds. Beijing Energy International was created to build a first-class international clean energy investor and operator and has set its ambitious goal of building over 20GW installed capacity by the end of 2025.
In the first year of the "14th Five-Year Plan" period, the company made an all-out effort, and achieved 10GW controlled and confirmed installed capacity amid fierce market race, which laid a solid foundation for attaining the goal of this key period and made a significant contribution in developing new energy industry.
"Stick to the end!" This is the common belief and genuine spirit of our entire team. In the last week of December, 2021, the company witnessed a slew of exciting news, with the newly added capacity reaching 2GW, fully mirrored the courage and strength of the company: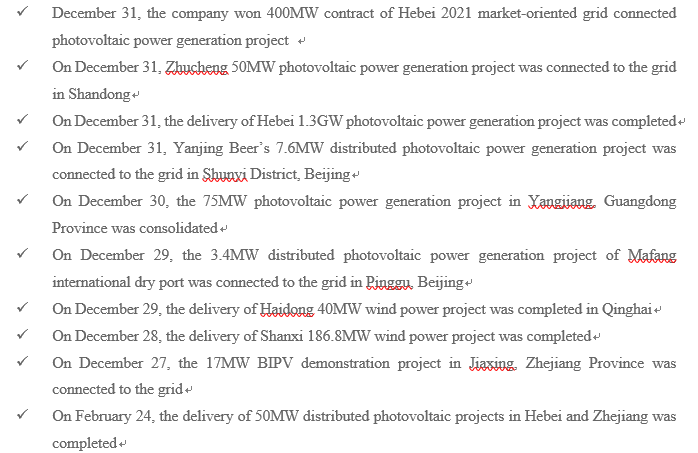 The year 2021 marked the beginning of the "14th Five-Year Plan" period. However, the allocation time of new energy targets in various provinces, municipalities and autonomous regions was running a bit late. In addition, the prices of components and other equipment continued to rise, causing projects to be delayed again and again. Despite tremendous pressure, the company sticked to its mission of international market expansion in line with its established plan and goals. The expansion results are great and showing a strong momentum of high-quality and rapid development.
For the entire team, sticking to the end and pursuing positive results and value are key to our hearts. We believe that people who work hard in a down-to-earth manner will never be forgotten by success. This era belongs to those who dare to pursue and pursue bravely.
When you hoist the sails to cross the sea, you'll ride the wind and cleave the waves. The year of 2021 has passed, and the past is a prologue to the future. The new year of 2022 will be a new starting point of a new voyage, and we will continue to hoist the sails!