BJ ENERGY INTL Signed an Agreement with Qinghe County Government of Hebei Province on a 200MW Floating Distributed Power Generation Project
On July 22, 2022, Beijing Energy International and Qinghe County Government of Hebei Province signed a 200MW floating distributed power generation project agreement. This is another major breakthrough made by Beijing Energy International in floating photovoltaics after the first batch of 93.4MW distributed photovoltaic projects in Gucheng County of Hengshui City of Hebei Province were filed for registration, representing a key move in expanding clean energy business in the Beijing-Tianjin-Hebei region.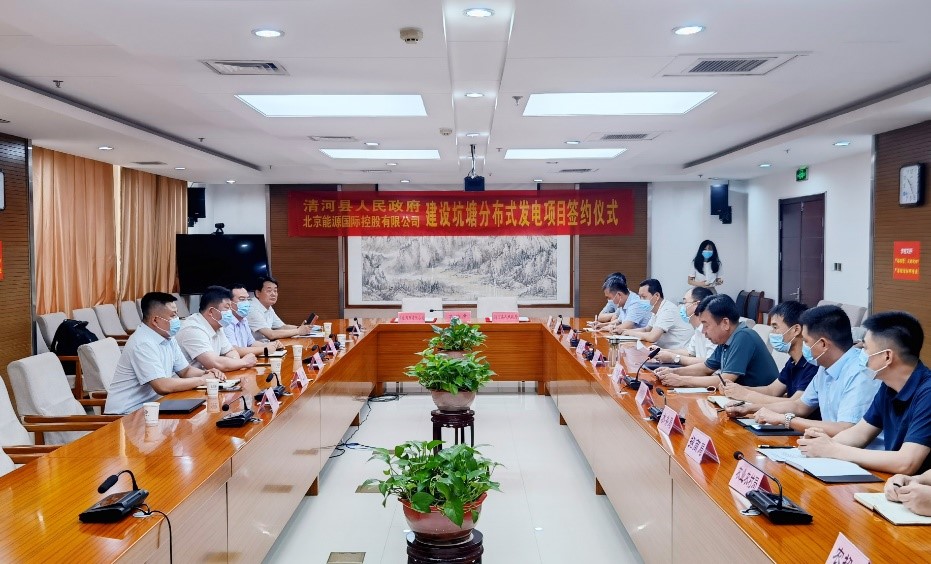 According to the agreement, the two sides will gradually deepen the strategic cooperation in industrial transformation and upgrading and energy field based on the principle of mutual support, mutual promotion, mutual benefit and common development. The project uses rural pits and ponds in Qinghe County, with a total planned water surface area of about 4,000 mu (around 2,666,400 sqm2), a planned total installed capacity of 200MW and a total investment of about 820 million yuan. After the completion of the project, the total power generation in 25 years will be about 6.6 billion kWh, the average annual power generation will be about 265.35 million kWh, and the average annual equivalent hours will be about 1,327 hours, which will help improve local energy structure, improve the security of energy supply, promote the continuous development of its power transmission and transformation industry, and help Hebei achieve its dual carbon goals at an early date.