On September 26, 2022, Zhang Ping, Chairman of the Board of Directors of Beijing Energy International met with Da Ji, Vice President of ICBC Financial Assets Investment Co., Ltd. in Beijing. The two sides had an in-depth exchange on financial business cooperation in clean energy. Wang Xue, General Manager of Investment Banking Department, Beijing Branch, Industrial and Commercial Bank of China, Ren Xiaoke, President of ICBC Xuanwu Sub-branch, Huang Hui, Vice President of Beijing Energy International, Wang Yang, Chief Financial Officer and other relevant personnel attended the meeting.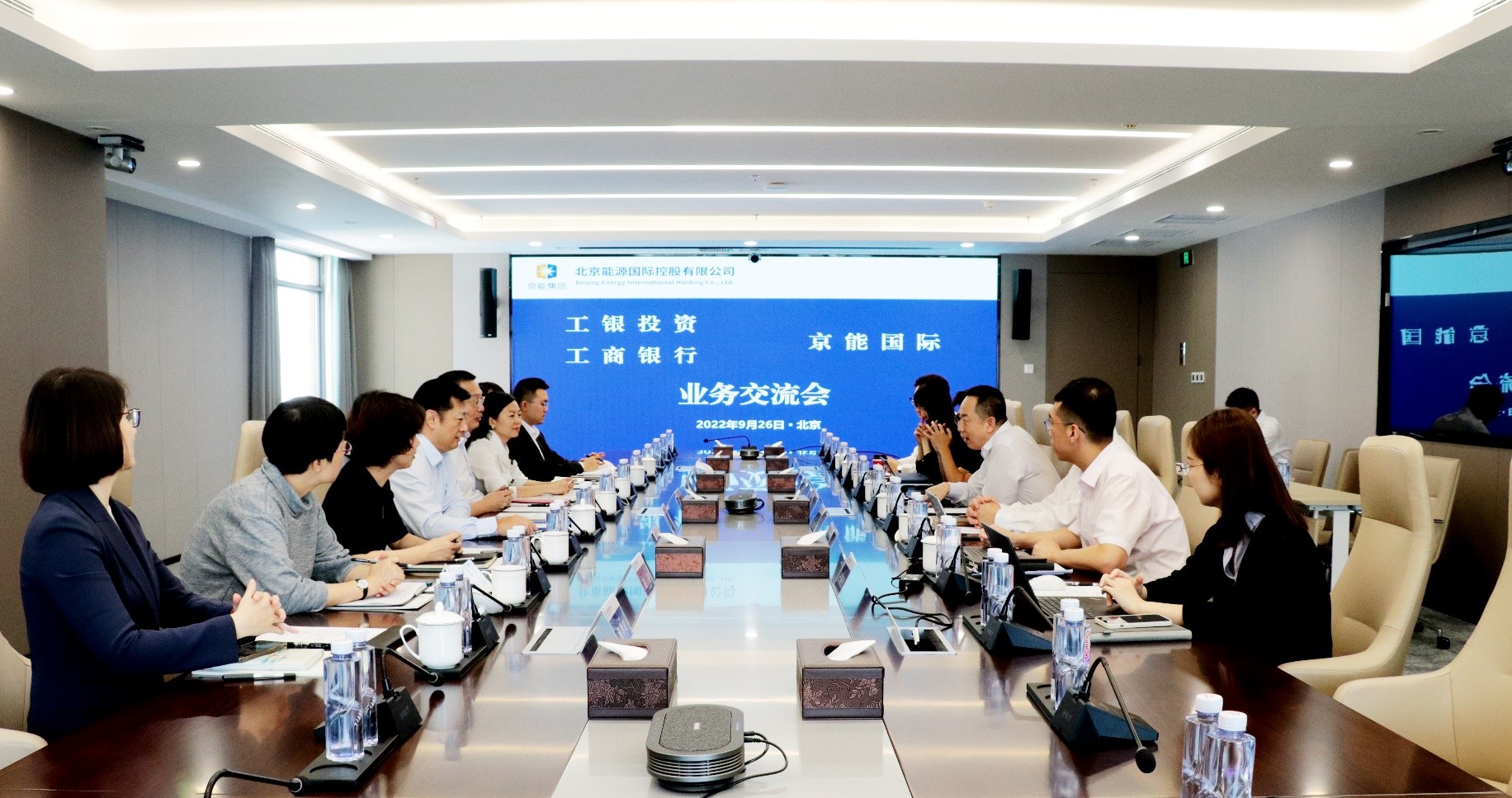 Zhang Ping welcomed the visit of Da Ji and the visiting delegation and introduced the development and future planning of the company's business. He said that Beijing Energy International adheres to the concept of high-efficiency and open-minded international expansion and market-oriented development, continuously unleashes the vitality of its system and mechanism, and seizes development opportunities. Presently, the company's project resource reserve has exceeded 40GW. The two sides are highly aligned on development concepts in green energy, and there is a broad space for cooperation. It is hoped that the two sides will further expand the depth and breadth of cooperation, elevate the cooperation to a higher level of mutual benefit and win-win result, and jointly contribute to the early attainment of national dual carbon goals.
Da Ji said that ICBC Investment has continued to pay attention to the new energy industry, maintained long-term cooperative relations with many domestic energy companies and has rich investment experience. He said that as an international and market-oriented clean energy investment platform built by Beijing Energy Holding, Beijing Energy International has made remarkable achievements in recent years. ICBC attaches great importance to the future cooperation prospect with the company. It is hoped that both parties will fully capitalize on their respective professional advantages, deepen the strategic cooperative relationship, and seek common development on the basis of ICBC's capital increase project of RMB 3 billion in 2021.