On May 12, 2023, Liu Dongsheng, vice president of Beijing Energy International, met with Ji Guangheng, vice president of Ping An Group in Beijing. The two sides exchange on in-depth cooperation in investment and development of clean energy projects such as wind power, photovoltaic power generation, hydropower and asset securitization.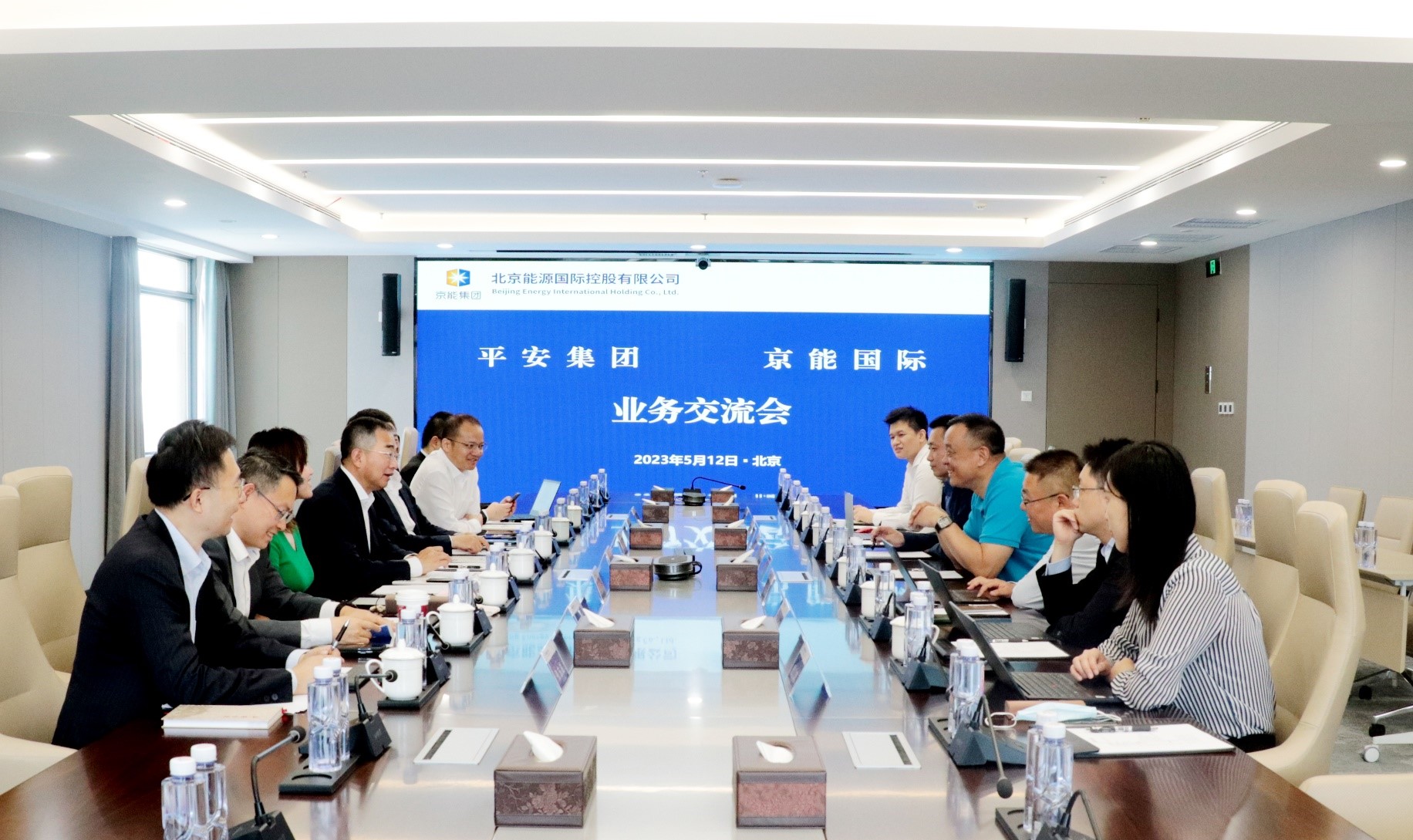 Liu Dongsheng said that Ping An Group is the largest insurance group in the world, with comprehensive financial advantages, strong financing ability and rich asset management experience and that Beijing Energy International focuses on building itself into a first-class international clean energy provider, green investor and operator, with specialized business development and management capabilities. The three-year rapid development has promoted the company to continuously enrich its business portfolios and expand its asset size. At the same time, the company is also analyzing strategic transformation and is well positioned for in-depth cooperation with financial companies like Ping An Group.
Ji Guangheng believes that Beijing Energy International, as a market-oriented company, enjoys flexible and efficient institutional mechanisms and outstanding investment capacity in new energy development, which is highly aligned with Ping An Group's asset management business. It hopes to continuously upgrade its scale, innovate and expand cooperation areas on the basis of existing cooperation, so as to foster strong alliance and mutual benefit.
It is agreed that they will further expand the depth and breadth of cooperation in the future, accelerate the implementation of the first batch of asset package cooperation for new energy projects as soon as possible, leverage the resource endowments of both sides to build a platform to jointly develop new energy projects at home and abroad, focus on green energy, digital industry and other fields, actively explore new business models, financing models and investment opportunities, establish comprehensive and in-depth cooperative relations, and integrate industry and finance for coordinated development, so as to contribute to the green and low-carbon development of the energy sector.
Li Yuhang, deputy general manager of Ping An Trust, Ren Yujie, director of Institutional Asset Management Review, Huang Qinwen, business director of Institutional Asset Management Division, and Li Peng, general manager of Ping An Basic Industry Fund; Wu Chaoke, vice president of Beijing Energy International, Zhao Li, investment director, Lu Zinan, general manager of Financing Management Center and other relevant personnel attended the meeting.