On March 10, 2022, Zhang Ping, Chairman of the Board of Directors of Beijing Energy International met with Li Donglin, Chairman of CRRC Zhuzhou Institute in Beijing, and the two sides discussed about in-depth cooperation in new energy, distributed energy, energy storage and hydrogen production. Fan Baolin, Deputy General Manager of CRRC Zhuzhou Institute; Zhu Jiancheng, Assistant General Manager and General Manager of Wind Power Department; Hua Zhen, Director of General Manager's Office (Office of BOD); Liu Chongbo, Deputy General Manager of Wind Power Department; Jia Geng, Wang Liuhu, Vice President of Beijing Energy International, Zhou Guo, Director of Safety Production, Guo Liang, General Manager of Overseas Business Department and other relevant personnel attended the meeting.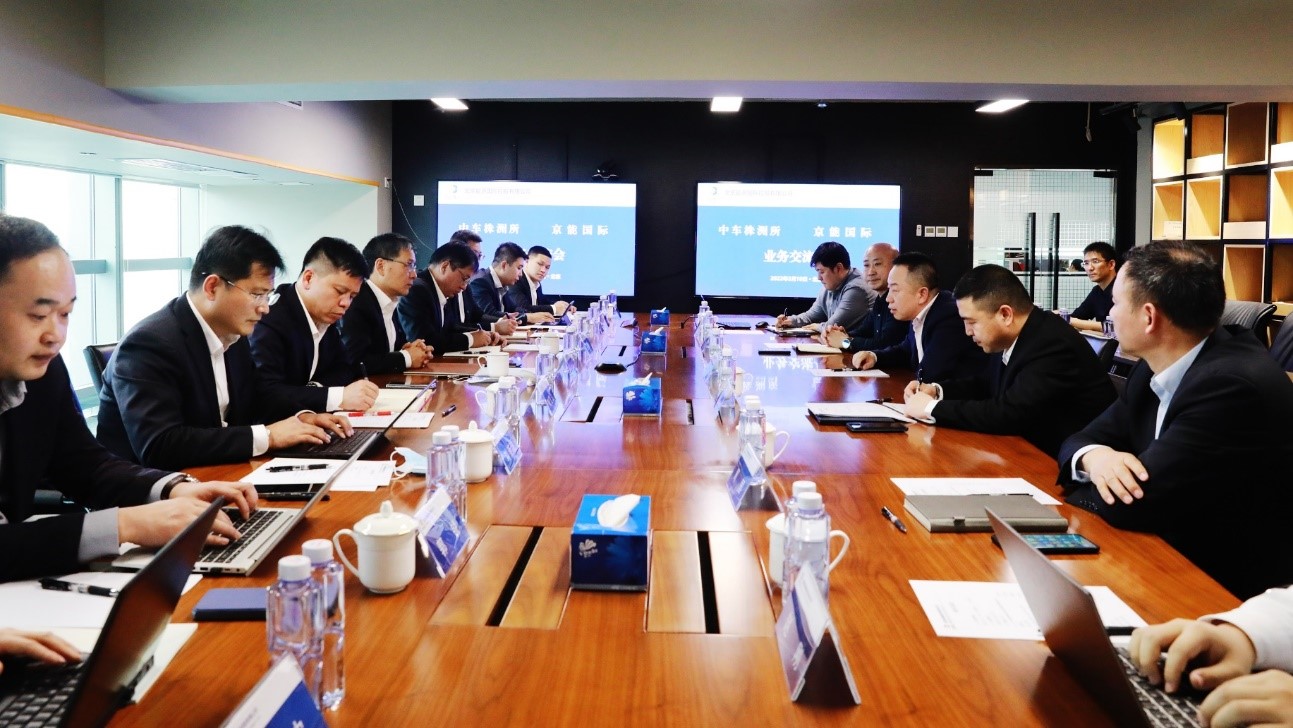 Zhang Ping extended a warm welcome to Li Donglin and his delegation and introduced the company's domestic and overseas business development and future planning. He said that as a pilot SOE for mixed-ownership reform, the company was embracing high-quality and rapid development. CRRC Zhuzhou Institute and Beijing Energy International are highly aligned on industrial development, and both sides enjoy a sound foundation and broad cooperation potential. Going forward, it is hoped that they will leverage on their respective advantages in resources, technology and expertise, deepen cooperation in new energy base projects and integrated energy projects via their strategic partnership, consolidate cooperation results, achieve mutual benefit and common development, and contribute to the green and low-carbon development of energy industry.
Li Donglin introduced the current business and future planning of CRRC Zhuzhou Institute. He said that Beijing Energy International had scored remarkable achievements in the past two years and set store by its support to the development of new energy of CRRC Zhuzhou Institute. He said that CRRC Zhuzhou Institute adopted innovation-driven development, positioned itself on the transportation and energy fields and focused on wind and solar and other new energy modalities, which was highly convergent with the vision of Beijing Energy International. It is hoped that both sides will fully cooperate in investment and construction of wind power and photovoltaic projects at home and abroad, establish long-term strategic partnership, accelerate the landing of cooperation projects, complement each other's advantages, make further innovations and contribute to the attainment of the dual carbon goal at an early date.